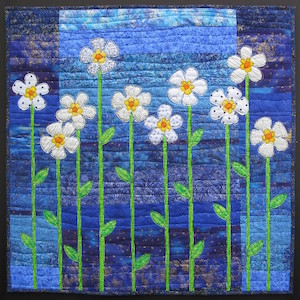 Healing Quilts. (Can be provided virtually over Zoom or other platform.)
This one hour lecture is a slide show of some amazing projects where quilts have been used to make the world a better place through the subject of healing.
This lecture will show excerpts from some poignant and powerful exhibits at Walter Reed Army Medical Center, National Institutes of Health, University of Michigan Health System, Sacred Threads and Beyond the Barrier (quilts made by inmates of the Ohio Reformatory for Women). It will give your guild or organization some ideas on how to start your own healing quilt project.
Fever Few. University of Michigan Health System